Robotic Lawn Mowers
No need to collect clippings
The Automower® leaves tiny clippings that you won't notice, so there is no need to collect them. By leaving them you naturally fertilise your lawn.
Finds it's way home
The Automower® is guided by boundary wires around your garden. Within that area it moves in irregular patterns so that there are no lines or traces of mowing in the grass.
Recharges itself
The Automower® is battery-driven and comes with a charging station, connected to your electrical garden outlet. When it is done mowing it automatically returns to the charging station.
Complex gardens
The Automower® can handle big and complex gardens with many various obstacles. It has no problems mowing lawns with inclines of up to 45% (24°).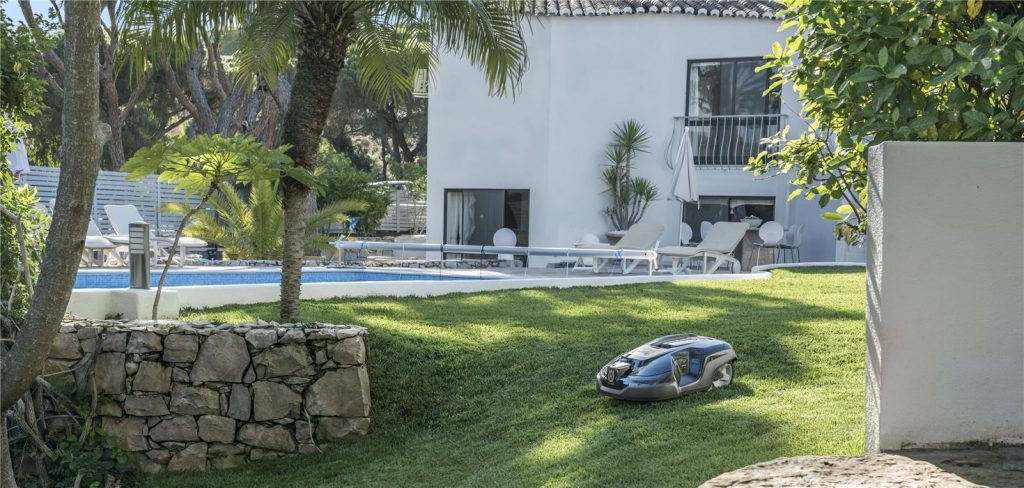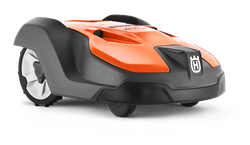 HUSQVARNA AUTOMOWER® 550
Cutting Height, min-max : 20-60 mm
Cutting system : 3   pivoting razor blades
Product Size, LxWxH : 72x56x31 cm
Sound level Measured : 60   dB(A)
Typical charging time : 60   min
Working area capacity : 5000 m² ±20%
Working area capacity (±20) : 5000   m²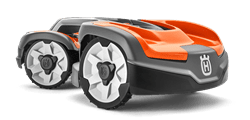 HUSQVARNA AUTOMOWER® 535 AWD
Cutting Height, min-max : 30-70 mm
Cutting system : 3   pivoting razor blades
Product Size, LxWxH : 93x55x29 cm
Sound level Measured : 60   dB(A)
Typical charging time : 30   min
Working area capacity : 3500 m² ±20%
Working area capacity (±20) : 3500   m²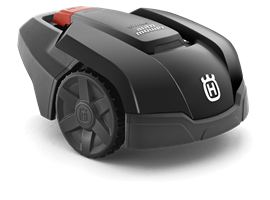 AUTOMOWER® 105
Working area capacity – 600 m² ±20%
Battery type – Li-Ion
Typical charging time – 50 min
Sound level Measured – 58 dB(A)
Reliability
Excellent cutting results
Low noise
Unique cutting system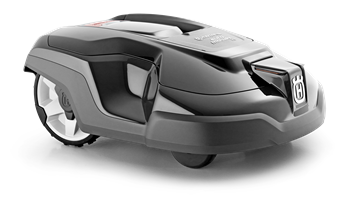 AUTOMOWER® 315
Working area capacity – 1500 m² ±20%
Battery type – Li-Ion
Reliability
Excellent cutting results
Low noise
Weather Timer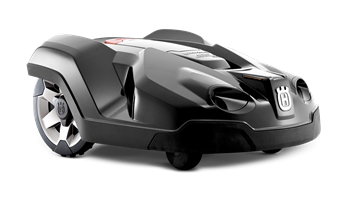 AUTOMOWER® 430X
Working area capacity – 3200 m² ±20%
Battery type – Li-Ion
Typical charging time – 65 min
Sound level Measured – 57 dB(A)
Reliability
Excellent cutting results
GPS-assisted navigation
Weather Timer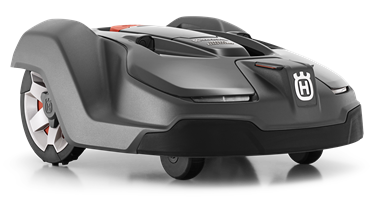 AUTOMOWER® 450X
Working area capacity – 5000 m² ±20%
Battery type – Li-Ion
Typical charging time – 75 min
Sound level Measured – 58 dB(A)
Reliability
Excellent cutting results
GPS-assisted navigation
Automower Connect