Ride-On Mowers
Expertise and how-to's
The key to a better-looking garden is to never stop learning. Take advantage of our experience and knowledge to help you get the most out of your Rider.
Combi cutting deck
The Combi cutting deck offers two different cutting options; BioClip or rear discharge.
All-Wheel-Drive (AWD)
All-Wheel-Drive (AWD) ensures traction on uneven, wet and slippery areas and slopes. AWD automatically adjusts the traction on all wheels depending on the situation and ground condition.
Attachments and accessories
Your Rider is capable of so much more than just mowing. Husqvarna has a comprehensive range of attachments for all kinds of purposes, such as brushing, snow removal, flail mowing, and transportation of goods.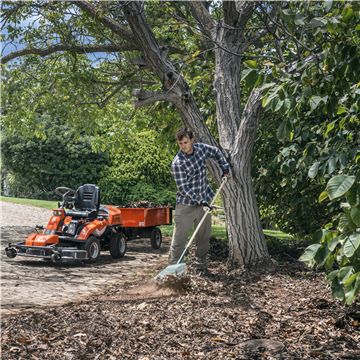 200-series
Husqvarna Riders 200-series is the right choice for home and landowners who require high efficiency. You will find them easy to use with superior manoeuvrability – quite simply a joy to ride.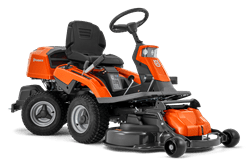 HUSQVARNA R 216
Motor/engine manufacturer
Briggs & Stratton
Net power at preset rpm Energy
8.5 kW
Cutting width, min-max
94-103 cm
Uncut circle
30 cm
LED head lights
BioClip®
Cutting decks and accessories
Service position
300-series
Husqvarna Riders 300-series is suitable if you are a landowner who wants efficient results. They give you superior manoeuvrability and great results all year round. In short – the ultimate driving experience.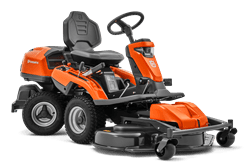 HUSQVARNA R 316TX
Kawasaki

9.6 kW

94-112 cm

30 cm