Husqvarna Lawn Mowers
Save your back – and time
All our lawn mowers are efficient and provide excellent ergonomics. So whether you choose a model with a single or variable transmission you can expect a reliable performance for your needs. Your Husqvarna lawn mower will prevent you from getting unnecessary muscle tension and injuries. And what is more – it will give you a pleasant experience close to nature. In one of our lawn mowers you will have an accomplished and confident partner. The compact design will give you excellent manoeuvrability and the vibration-damped handles make the operation ergonomic. A robust framework and elaborate details also means extended durability and easy maintenance.
All our lawn mowers are equipped with a one-piece cutting deck, straight from the stamping line. This means no welded parts – a feature that will bring you torsion stiffness and enable you to operate with stability. A one-piece cutting deck also means a tolerant and durable performance
Get the perfect touch on your lawn
One step towards a perfect lawn is that perfect length. Your Husqvarna mower will be quick and easy to adjust, with just one lever you control the whole deck. Excellent versatility thanks to the two-in-one cutting system – collection and Bioclip (mulching).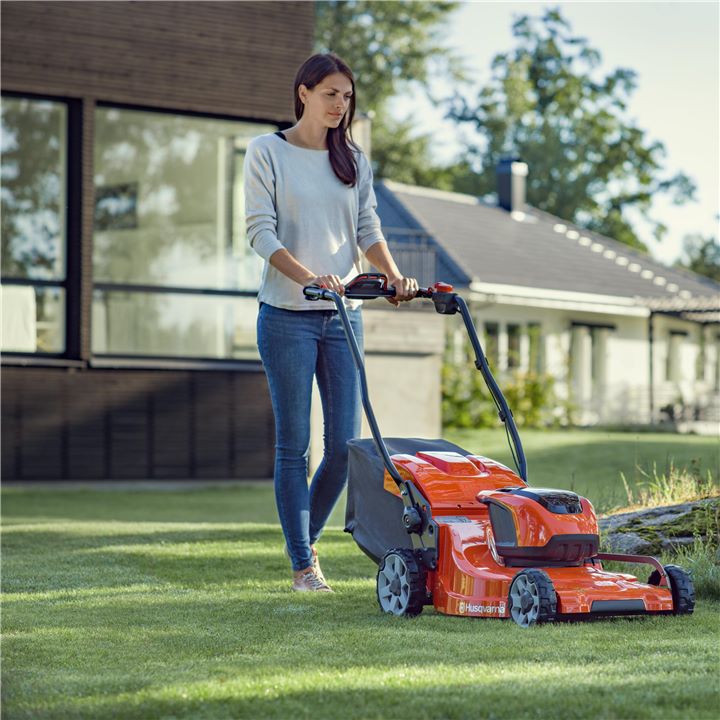 Lawnmowers
Push lawnmowers are particularly suitable if you have a smaller garden. Their compact design makes it easy to manoeuvre in tight spaces.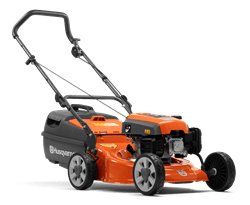 HUSQVARNA LC 118
Cutting methods : Collection/BioClip®
Cutting Height, min-max : 16-80 mm
Cutting width : 46   cm
Drive system : Push
Speed Forward, min-max : 0 km/h-0 km/h
Weight : 26.2   kg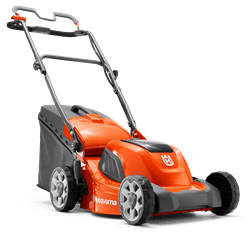 HUSQVARNA LC 141i
Battery voltage : 36   V
Cutting methods : Collection/BioClip®/Rear discharge
Cutting Height, min-max : 25-75 mm
Cutting width : 41   cm
Drive system : Push
Product Size, LxWxH : 144x50x115 cm
Speed Forward, min-max : 0 km/h-0 km/h
Weight : 18.6   kg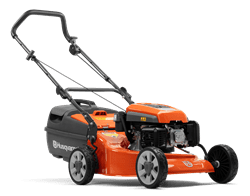 HUSQVARNA LC 219P
Cutting methods : Collection/BioClip®
Cutting Height, min-max : 15-93 mm
Cutting width : 48   cm
Drive system : Push
Speed Forward, min-max : 0 km/h-0 km/h
Weight : 29.5   kg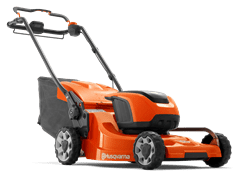 Husqvarna LC 347iVX
Battery voltage : 36   V
Cutting methods : Collection/BioClip®/Rear discharge
Cutting Height, min-max : 20-75 mm
Cutting width : 47   cm
Drive system : Rear wheel drive
Product Size, LxWxH : 1480x525x1080 cm
Speed Forward, min-max : 3-4.5 km/h
Weight : 26   kg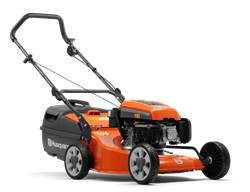 HUSQVARNA LC 419A
Cutting methods : Collection/BioClip®
Cutting Height, min-max : 16-80 mm
Cutting width : 48   cm
Drive system : Push
Speed Forward, min-max : 0 km/h-0 km/h
Weight : 28.3   kg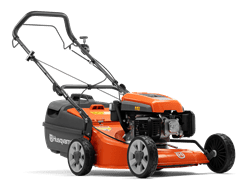 HUSQVARNA LC 419SP
B
Cutting methods : Collection/BioClip®
Cutting Height, min-max : 15-75 mm
Cutting width : 48   cm
Drive system : Self-propelled, single speed
Speed Forward, min-max : 0 km/h-4
Weight : 32.0 kg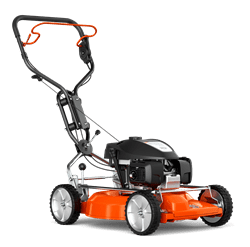 HUSQVARNA LB 553S e
Cutting methods : BioClip®
Cutting Height, min-max : 28-65 mm
Cutting width : 53   cm
Drive system : Self-propelled, single speed
Motor/engine manufacturer : Honda
Speed Forward, min-max : 0 km/h-4.8
Weight : 36.5   kg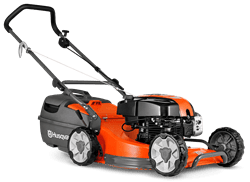 HUSQVARNA LC 19AP
Cutting methods : Collection/BioClip®
Cutting Height, min-max : 16-80 mm
Cutting width : 48   cm
Drive system : Push
Motor/engine manufacturer : Briggs & Stratton
Weight : 34.0 kg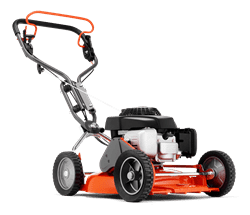 HUSQVARNA LB 548S e
Cutting methods : BioClip®
Cutting Height, min-max : 30-60 mm
Cutting width : 48   cm
Drive system : Self-propelled, single speed
Motor/engine manufacturer : Honda
Speed Forward, min-max : 0 km/h-4.5
Weight : 32.5   kg